Buenos días,
Debido a los numerosos correos que hemos recibido, ampliamos algunos datos del fondo de Waverton European.
A fecha de hoy es mejor que cada uno de los lectores lo compare con su fondo europeo favorito y saque sus conclusiones.
La clase disponible y registrada  en España es de distribución. Pueden solicitar el fondo a su intermediario financiero.
El fondo tiene a fecha de hoy un volumen de más de 1.1 bl EUR.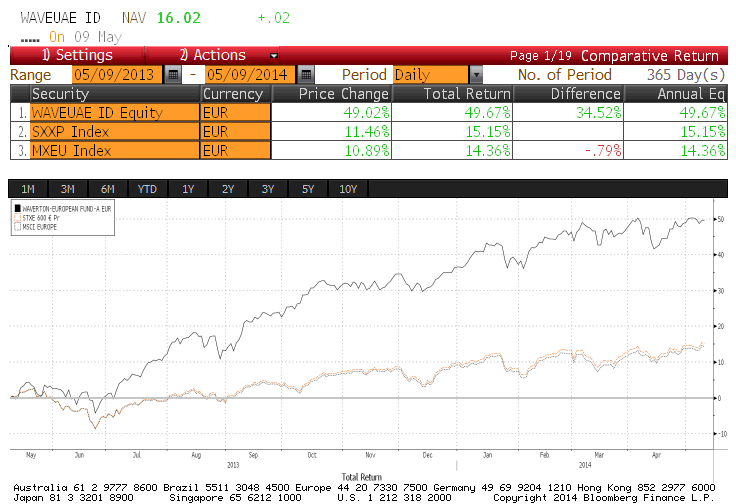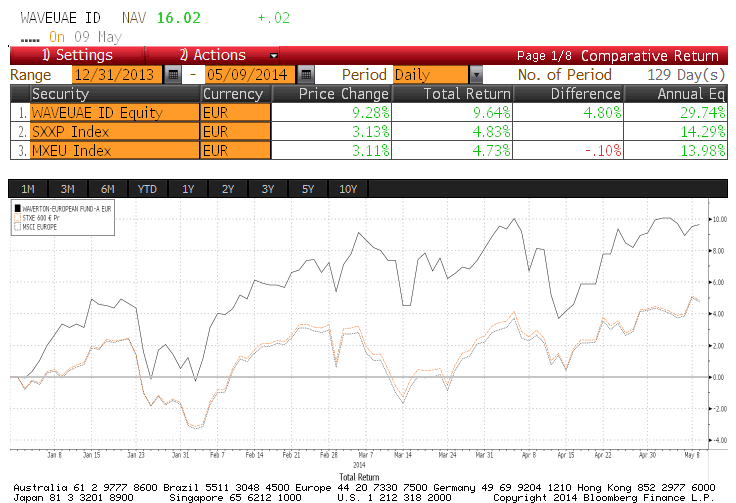 (Rentabilidades pasadas no garantizan rentabilidades futuras)
THE WAVERTON EUROPEAN FUND INVESTMENT STRATEGY:
* Long-only European equity
* Highly disciplined stock driven approach
* High conviction, concentrated portfolio: 20-30 holdings
OBJECTIVE:
* To substantially outperform the FTSE European Total Return Index
EXPERIENCED AND PROVEN TEAM:
* Oliver Kelton: 12 years industry experience
* Katrina Norris: 20 years industry experience
FUND HISTORY
*  1999 JOHIM launches its European Fund for internal clients
*  2007 the fund is rebranded to The Waverton European Fund with a new manager, Katrina Norris, to seek external clients
*  April 2010 Oliver Kelton took over management whilst Katrina took time for maternity leave
*  April 2013: The Pepin Fund, a plain vanilla European long/short equity fund that Oliver Kelton has been managing since 1st May 2007 was merged with the fund
*  AUM: €878m (31.04.2014)
*  Ratings: Lipper Fund Award 2014, Equity Europe; Morningstar 5*; Citywire AAA Manager; Lipper Leader for Total Return and Consistent Return.
Past performance is not a guide to future results


*Oliver Kelton was appointed Fund Manager on 1st April 2010
Waverton European
FTSE Europe TR EUR
Source: Waverton, Morningstar
* The peer group used is the Morningstar Europe Large Cap Blend Equity Category. The Index is the FTSE World Europe Performance is calculated on a NAV to NAV basis, net of all fees excluding the performance fee. Performance Fees were abolished on 30th September 2011.
Past performance is not a guide to future results.
PORTFOLIO CONSTRUCTION AND RISK MANAGEMENT
*  Predominantly large cap focus
* Position size – conviction led
* Seek to identify stocks with high absolute potential
* Typically 20-30 names in total
* Prepared to hold high levels of liquidity if negative on equity markets
*  Pragmatic and flexible approach
EUROPEAN EQUITY STRATEGY PERFORMANCE (30TH APRIL 2014)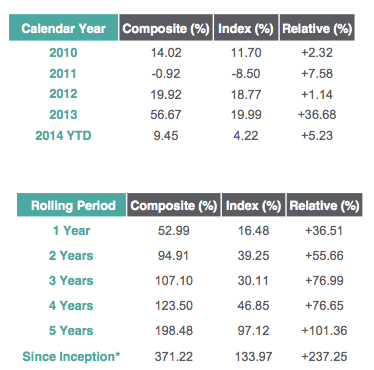 This is a composite of Oliver Kelton's performance in Long-only European Equity portfolios including the Waverton European Fund. The composite currently has an AUM of $1.4bn.
Waverton European Fund added from 1st April 2010 *January 8th 2003
Source: Waverton Investment Management, Morningstar The Index is the FTSE World Europe
Performance shown is gross of all fees, in Euros. Prices are taken from close to close. Past performance is not a guide to future
results.