Evaluando abrir una nueva posición para el mes de Octubre en esta e
mpresa química con el negocio bien diversificado globalmente por todo el mundo con presencia en mas de 30 paises y con mas de 5000 patentes en productos químicos. En los gráficos se puede comprobar fácilmente una gran recuperación en cuanto a margenes, ventas y ganancias a partir del 2009. La considero una inversión en valor ya que en los últimos 4 meses su cotización ha bajado un 44% por lo que posee un gran potencial de revaloración y mientras eso se produce obtenemos un dividendo de un 3,37%.
La compañía norteamericana tiene una de las mejores perspectivas del trienio 2013 - 2016 del Eco30, ya que tendrá un crecimiento de más del 442 por ciento. La empresa química, fundada en Salt Lake City, capital del estado de Utah, tiene unas previsiones de crecimiento de beneficios especialmente esperanzadoras para el año 2017, cuando se espera que supere en un 24 por ciento los que se lograrán en 2016, que serán de cerca de 721 millones de dólares. Para este año se estiman unos 596 millones de ganancias, lo que significa casi un 71 por ciento más que en el año anterior.
Por otro lado, cabe destacar que la dirección de esta empresa la realiza 
Jon M. Huntsman
 quien creo o fundo la empresa en 1970 junto con su hermano Blaine, llegó a ser en el año 2000 la empresa familiar más importante de los Estados Unidos, con una cifra de negocios superior a los 12.000 millones de dólares. En el currículum de Huntsman figura haber sido asistente especial durante la primera parte del mandato del Presidente Nixon y ser el primer extranjero que poseyó empresas privadas en la antigua Unión Soviética. Es además el principal patrocinador del Huntsman Cancer Institute, fundación líder en la prevención, diagnóstico y tratamiento del cáncer. Ha sido directivo de incontables empresas e instituciones, entre las que destacan la Cámara de Comercio de los Estados Unidos y la Cruz Roja Norteamericana
Datos financieros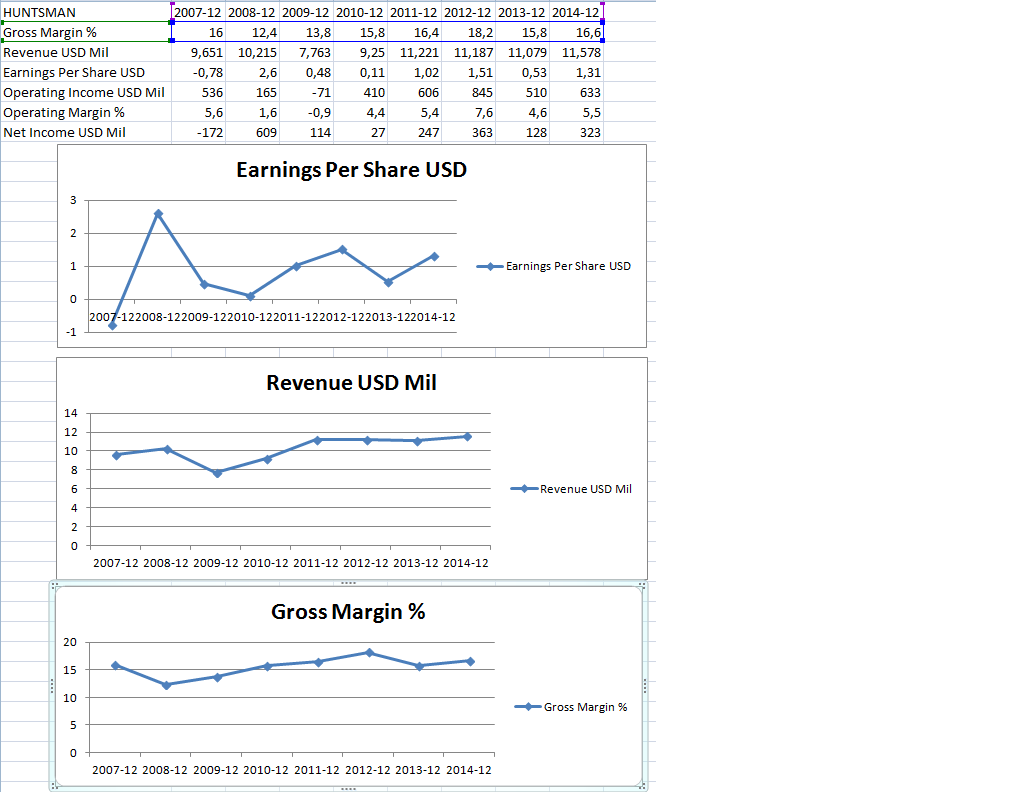 Analisis
SALES and  PRICE/SALES RATIO:

The investor must select companies of "adequate size". This includes companies with annual sales greater than $340 million.    HUN's    sales of    $11,164.0 million   , based on trailing 12 month sales, pass this test.
The prospective company should have a low Price/Sales ratio. Cyclical companies with Price/Sales ratios below or equal to .4 are tremendous values and should be sought.  HUN's  P/S ratio of  0.33  Based on trailing 12 month sales, is below .4 which is considered very favorable. It passes this methodology's P/S ratio test with flying colors.

CURRENT RATIO:  

The current ratio must be greater than or equal to 2. Companies that meet this criterion are typically financially secure and defensive.  HUN's  current ratio of  2.16  passes the test.


LONG-TERM DEBT IN RELATION TO NET CURRENT ASSETS:  

For industrial companies, long-term debt must not exceed net current assets (current assets minus current liabilities). Companies that do not meet this criterion lack the financial stability that this methodology likes to see. The long-term debt for  HUN  is  $4,927.0 million , while the net current assets are  $2,473.0  million. HUN  fails this test but t he biggest portion of the company's debt is not due till 2021


LONG-TERM EPS GROWTH:

Companies must increase their EPS by at least 30% over a ten-year period and EPS must not have been negative for any year within the last 5 years. EPS for  HUN  were negative within the last 5 years and therefore the company fails this criterion.


P/E RATIO:  

The Price/Earnings (P/E) ratio, based on the greater of the current PE or the PE using average earnings over the last 3 fiscal years, must be "moderate", which this methodology states is not greater than 15. Stocks with moderate P/Es are more defensive by nature.  HUN's  P/E of  19.41  (using the current PE) but Forward P/E is 5.

PRICE/BOOK RATIO:

The Price/Book multiplied by P/E cannot be greater than 22.  HUN's  Price/Book ratio is  2.18 , while the Forward P/E is  5 .
FREE CASH PER SHARE
Companies should have enough free cash available to sustain three years of losses. This is based on the premise that companies without cash will soon be out of business.  HUN's  free cash per share of  0.15  passes this criterion.
 
Referencias:
http://www.huelvainformacion.es/article/huelva/1881479/huntsman/compra/dioxido/titanio/y/aditivos/funcionales/rockwood.html
http://www.modaes.es/equipamiento/20150213/la-quimica-huntsman-disminuye-su-actividad-en-europa-tras-cerrar-una-planta-en-francia.html
http://www.eleconomista.es/interstitial/volver/robsep15/mercados-cotizaciones/noticias/6574761/03/15/Huntsman-aumentara-este-ano-un-71-sus-beneficios.html#.Kku8ebRP4kMYd8k
http://www.capitalcube.com/blog/index.php/huntsman-corp-earnings-q2-2015/
http://www.quiminet.com/noticias/se-desmorona-la-compra-de-huntsman-por-parte-de-basell-2351324.htm
http://www.moneyflowindex.org/huntsman-corporation-nysehun-analyst-price-target-update/387061/
http://markets.ft.com/research/Markets/Tearsheets/Financials?s=HUN:NYQ