Vamos a intentar realizar un análisis que en el futuro implementaremos más a menudo en Unience. Se trata de analizar declaraciones, resultados o estimaciones, comentándolo junto al papel, documento o informe emitido por la entidad o la empresa en cuestión. Y para empezar, nada mejor que el comunicado que ha puesto otra vez nervioso al mercado: el anuncio de la Reserva Federal de que va a subir los tipos de descuento. Pongo entre comillas las
declaraciones de la Fed
y a continuación los comento.
"The Federal Reserve Board on Thursday announced that in light of continued improvement in financial market conditions it had unanimously approved several modifications to the terms of its discount window lending programs. Like the closure of a number of extraordinary credit programs earlier this month, these changes are intended as a further normalization of the Federal Reserve's lending facilities".
Dos notas a destacar en en estas primeras líneas: el termino "mejora continuada" cuando se refiere a las
condiciones de los mercados financieros
y los intentos de normalidad y de restar importancia que intenta transmitir, comparándolo con "otros programas extraordinarios de
crédito
" que se habían retirado a principios de mes e insistiendo en una "progresiva normalización". Como vemos, insistencia en transmitir la continuidad en la mejoría. La Fed intenta comparar esta medida con las anteriores, para
tranquilizar al mercado
, porque sabe que hay un riesgo evidente de que el mercado interprete que las subidas de tipos llegarán antes de lo previsto.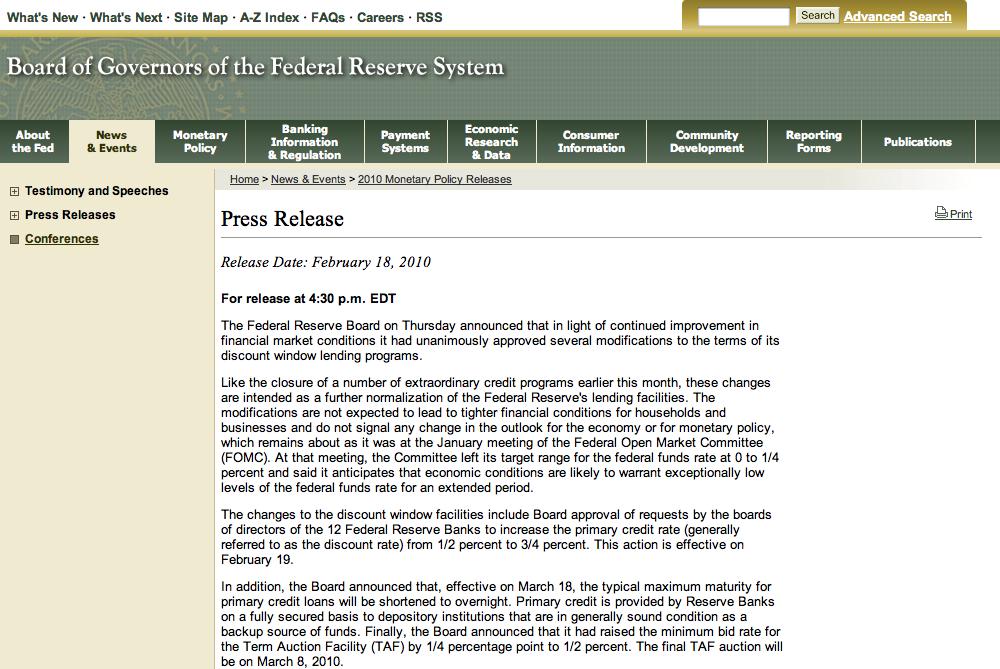 "The modifications are not expected to lead to tighter financial conditions for households and businesses and do not signal any change in the outlook for the economy or for monetary policy, which remains about as it was at the January meeting of the Federal Open Market Committee (FOMC). At that meeting, the Committee left its target range for the federal funds rate at 0 to 1/4 percent and said it anticipates that economic conditions are likely to warrant exceptionally low levels of the federal funds rate for an extended period".
En este parrafo incide en el mensaje clave de la comunicación: esto no cambia para nada la
política monetaria
. Dos negaciones tajantes en la primera línea "Not expected" y "Not signal". Y para confirmarlo, cita la última reunión del Comité de Mercado Abierto de la Fed (El que decide qué hacer con los tipos de interés), para actualizar a día de hoy ese mensaje.
"The changes to the discount window facilities include Board approval of requests by the boards of directors of the 12 Federal Reserve Banks to increase the primary credit rate (generally referred to as the discount rate) from 1/2 percent to 3/4 percent. This action is effective on February 19. In addition, the Board announced that, effective on March 18, the typical maximum maturity for primary credit loans will be shortened to overnight. Primary credit is provided by Reserve Banks on a fully secured basis to depository institutions that are in generally sound condition as a backup source of funds. Finally, the Board announced that it had raised the minimum bid rate for the Term Auction Facility (TAF) by 1/4 percentage point to 1/2 percent. The final TAF auction will be on March 8, 2010."
Este es un párrafo de comentario de los trámites que se siguen para tomar la decisión: desgrana el trámite que sigue el proceso de aprobación de la subida en los tipos de descuento, cita la fecha y anuncia otras medidas de normalización menores. A continuación, simplemente resume las medidas extraordinarias tomadas desde que empezó la crisis:
"Easing the terms of primary credit was one of the Federal Reserve's first responses to the financial crisis. On August 17, 2007, the Federal Reserve reduced the spread of the primary credit rate over the FOMC's target for the federal funds rate to 1/2 percentage point, from 1 percentage point, and lengthened the typical maximum maturity from overnight to 30 days. On December 12, 2007, the Federal Reserve created the TAF to further improve the access of depository institutions to term funding. On March 16, 2008, the Federal Reserve lowered the spread of the primary credit rate over the target federal funds rate to 1/4 percentage point and extended the maximum maturity of primary credit loans to 90 days. Subsequently, in response to improving conditions in wholesale funding markets, on June 25, 2009, the Federal Reserve initiated a gradual reduction in TAF auction sizes. As announced on November 17, 2009, and implemented on January 14, 2010, the Federal Reserve began the process of normalizing the terms on primary credit by reducing the typical maximum maturity to 28 days.
Y para terminar, detalla los motivos para subir la tasa de descuento, como veis a continuación, y que justo debajo del párrafo explico:
"The increase in the discount rate announced Thursday widens the spread between the primary credit rate and the top of the FOMC's 0 to 1/4 percent target range for the federal funds rate to 1/2 percentage point. The increase in the spread and reduction in maximum maturity will encourage depository institutions to rely on private funding markets for short-term credit
and to use the Federal Reserve's primary credit facility only as a backup source of funds. The Federal Reserve will assess over time whether further increases in the spread are appropriate in view of experience with the 1/2 percentage point spread".
Desde luego, en la segunda sentencia, deja muy clara la intención de la medida: que
los bancos vuelvan a prestarse dinero entre sí
. Para ello, aumenta desde un cuarto de punto hasta medio punto porcentual, el diferencial entre el tipo de interés al que presta dinero a los bancos, tipos de descuento, y el tipo de interés en el que los bancos se prestan dinero entre sí, tipos oficiales. Y para terminar afirma que va a vigilar durante un tiempo si este diferencial es adecuado o si va a aumentarlo durante los próximos meses.